Product Description
Introduction
all message types - fax, email, GSM text, telex, ePOST, EDI/XML - provided in one modular software
advanced FTP file transfer automation included
specially designed for automating the message and file transfer transactions and the related pre- and post-processes
can be integrated to co-operate with any other software packages
consistent user interface and APIs - easy to learn and efficient to use
Manycom Message (MCM) is a multi-purpose, modular software for automating all kind of message and FTP file transfer transactions in the AS/400 environment.
MCM is especially designed for automating messaging and file transfer. It is extremely easy to integrate to co-operate with other existing user applications and ERP, CRM and SCM software packages. MCM makes it easy to turn your business to aBusiness - automated eBusiness!
MCM is a flexible integrated solution allowing 5250 terminal users and applications sending and receiving practically all kinds of messages needed in today's eBusiness environments.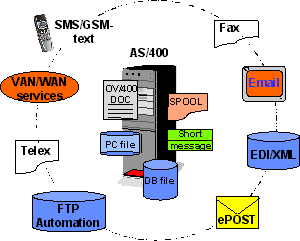 MCM can be configured to consist of one or more of the following modules:
MCM Base module is the 'soul' of the MCM product providing the base features and functions needed for sending and receiving various types of messages and data files. It contains also the common management and security functions, and the base features necessary in message and file transfer automation. For more information, see the separate MCM Base module description.
The Advanced Automation module complements the Base module. It provides common, message type independent features for advanced automation.
Message type specific modules such as Fax, Email, SMS/GSM text, Telex, EDI and ePOST provide message type specific data conversion, security, API, etc. features.
FTP Client Automation and FTP Server Automation modules make it easy to automate practically all file transfer transactions (sending, retrieving and receiving files) and the related pre- and post-processes.
Other modules such as Data File Conversion and Encryption are general utilities modules, which provide additional features needed in messaging and file transfer. Typically these modules have a CL command based API interface, which makes it possible to use them freely from any user application.
For more information about each module, see the specific module descriptions.
Manycom Messaging Platform
Manycom Solutions has developed and markets several products for messaging and data communication. In order to ease the development and maintenance of the products, the company uses component based programming techniques in the product implementations.
Manycom Messaging Platform consists of a set of common components used with various Manycom products. This part of the product is automatically included when you order the product for test or permanent use.
The following figure shows the modular structure of the Manycom Message package.
More about the product structure
A typical MCM configuration consists of the MCM Base module and one or more other modules. For instance, an email solution consists of the MCM Base and MCM Email modules. Additionally, the Advanced Automation module may be needed to implement more automation with the email traffic. Encryption and Data File Conversion are other optional modules, which can be used with the Email module, when needed.
Notice, that MCM Base module is mandatory only if communications, end user interface or other base functions are needed in your installation.
For instance, MCM EDI/XML Tools and Data File Conversion modules can be used as stand-alone configurations as well. Both produce files, which can be transferred by using any file transfer software or MCM modules. Notice however, that MCM Base together with FTP Client Automation, FTP Server Automation and Advanced Automation modules provide features for 'full' file transfer automation.
The modular structure of MCM makes the software very easy to install, maintain and upgrade when needed.
Automatic operations in batch mode
Sending and receiving operations take place automatically in the background as batch jobs under the special MCM subsystem. Users and applications request the operations from MCM via the MCM APIs, which save the requests in the MCM Transfer Directory. This directory and the extensive logging and security functions make it possible to strictly but flexibly control all operations and traffic. For more information about the technical background, see the MCM Base module description.
Use from applications
MCM is especially designed for automated messaging and file transfer. It is extremely easy to integrate to co-operate with user applications and software packages from other vendors.
From the applications point of view, MCM is a messaging and file transfer middleware, which provides the functions and features needed to automatically send and receive any kind of messages and data files easily and directly from and to the applications.
It is not necessary to do any changes - not even add the MCM API calls in the applications, since MCM Advanced Automation can poll the desired libraries, directories and output queues in order to find the desired messages (e.g. data or spool files) to send out. Additionally, MCM can identify and decide the routing information (e.g. email addresses of the receivers) in different ways, for instance by scanning the specified character strings in the contents of the files. This allows an easy and quick start of the utilization of MCM without the need to change the existing programs at all.
On the other hand, it is extremely easy to add the MCM API calls (CL commands) to the applications in order to call MCM directly from the applications. The name of the message file, routing and other control information are given in the parameters of the CL command. This requires some programming, but is more 'reliable' and efficient way to make the sending and receiving requests when compared with the above described 'polling' method.
When receiving messages and data files, MCM Advanced Automation can identify the messages and data files by using different methods described in the corresponding module description. It can also wake-up, call or submit and schedule the proper applications for further post-processing of the received messages and data files.
Use from 5250 terminals
MCM provides for the 5250 terminal users an easy-to-use and consistent user interface displays to create or select practically any AS/400 object type (e.g. database file, spool file, OV/400 document, PC files on AS/400 disk) and send it as any relevant message type (e.g. fax, email, SMS/GSM text…) to one or multiple users. MCM includes also an editor program to create and edit the message.
User specific default values, status displays for message control, MCM receiver register and distribution lists for group sending are examples of the features, which help keeping the end user operations effective.